Managing a travel program is a complex business
Simplify and streamline processes
From updating your travel & expense policy to sourcing your suppliers, drive efficiencies across your organization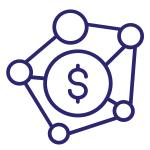 Control costs and prove the value of travel
Make sure every dollar you spend on your travel program is working toward achieving your goals
Reduce travel program leakage
Bring travelers to the program and keep them there to increase adoption and meet duty of care requirements
Travel managers are being asked to do more with less
The growing complexities of the corporate travel industry mean that creating a successful program is becoming more complicated every day.
It requires engaging the right suppliers, who prioritize your needs, value your business, and align with your company culture. It also means creating a traveler engagement strategy that encourages them to act like owners.
Without this critical balance, you are likely to see out-of-control spending, program leakage and even decline in employee retention.
Take a holistic approach to transform your travel program
We will help you determine when your travelers should be on the road, how they should travel, if your suppliers are supporting your ramp up, what your sustainability goals should be, and more.
Our global expertise will help you get the most out of your travel budget, drive savings, increase traveler satisfaction, and most importantly, make travel an important asset to your organization, rather than a cost to be managed.
Calculate your potential savings now
Our approach drives results. Achieve incremental savings and prove the value of travel.
Create a strategy for the new future of travel
The travel industry will continue to change over the next several years, with new technologies and stakeholders coming into play.
Putting in the work now to build a program that is agile and balances the needs and wants of both your organization and traveler will drive value for years to come.
"We're meeting supplier agreements. Online adoption is up. Our hotel attachment rate is creeping up. Savings are growing. When people around the company are talking about travel, and the numbers are going in the right direction, those are signs of success, and Traveler Engagement is making it happen."
Mauro Ruggiero
Global Travel Director, Finastra
"Advito brought to the table knowledge of our travel program and travelers, industry expertise and strong negotiating skills. Advito gave me a realistic number based on their knowledge of the air market, and we ended up right on target. I was able to let management know in advance what the spend was going to look like and why."
Director of Travel Services
Time, Inc.
Speak with an Expert
Whether your goal is to understand your air travel footprint, build the optimal ground supplier portfolio, discover your hotel negotiation leverage, develop a communications plan, or to decrease carbon emissions – Advito is here to help you succeed.