Source the right supplier mix to drive cost savings, reduce carbon emissions, and improve the traveler experience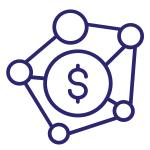 Avoid missed savings opportunities
Static sourcing events lead to missed opportunities for optimization throughout the year
Redirect your time and resources
Negotiating your entire supplier portfolio every year requires high effort for diminishing returns
Ensure your rates are competitive
Prices are constantly fluctuating, and your negotiated rates may not be competitive half-way through the year
Sourcing can eat up a lot of time and effort
Business goals and market conditions are always changing. It's crucial to know you're getting the best deals, and your travelers are taking advantage of the deals you spend so much time negotiating.
Advito's experts can help you source the right supplier mix. Our consultants have years of experience sourcing air, hotel, ground, and payment programs. We will:
Lead negotiations with suppliers and manage the RFP process
Find opportunities for leverage that support your goals
Implement innovative ongoing spend management techniques
Calculate your potential savings now
Our approach drives results. Achieve incremental savings and prove the value of travel.
Take a multimodal approach to your supplier strategy
Integrate air, rail, and car to adopt a multimodal approach and optimize your travel spend, maximize sustainability, and increase traveler satisfaction in your program. You'll create stronger leverage to negotiate better deals and expand your contract coverage to identify missed savings opportunities.
Over the past five years, 90% of Advito clients have adopted a (DPM) approach to build and constantly optimize their air program. By adding ground into this framework, we're helping clients reduce the amount of effort spend on annual sourcing and realize significant YOY savings.
Source sustainable suppliers
Use your sourcing engagements to find the partners who support your sustainability goals.
Our experts can help you source the most sustainable suppliers across air, hotel, rail, and car, leveraging our proprietary methodology for accurately measuring business travel emissions. We'll determine which suppliers your travelers should be booking to decrease carbon emissions and develop engaging marketing strategies to drive share shift and educate your stakeholders.
Bring new leverage to your air negotiations.
An air sourcing engagement with Advito can help you:
Make data-driven decisions. Using our propriety Airfare predictor analytics tool, we'll provide intelligence-backed recommendations to improve negotiation terms. Turn data into incremental savings.
Build the right travel policy. Craft your policy based on predictive intelligence. Determine factors like the best advance booking window, time to travel, connecting point, and more.
Influence travelers. Once your program is in place, our industry-leading Traveler Engagement experts can build communication strategies designed to drive the most value out of your preferred program
Drive savings beyond sourcing in your hotel program
Now is the time to take back the wheel of your hotel program.
Historically, sourcing has been considered the key to a successful hotel program. But these days you're up against smarter suppliers with increasingly sophisticated data in a completely changed travel industry. Advito's experts bring new, sophisticated strategies proven to drive more value with less effort. Our leading will help you stay one step ahead of suppliers to ensure you're getting – and keeping – the best deals.
"We were years into a seller's market with significant volume in compressed markets, so we needed to be creative with how we were going to minimize YOY increases. By taking a step back and understanding how we were creating value and measuring savings, we were able to simplify the process and focus our energy where it mattered – on rate, high volume hotels and markets, and partnerships."
Amy Perrone
SMM & Hotel Program Manager,
Genentech
"This is really where the value comes from, I need to focus on what I must to do run our travel program every day. It's important to have Advito looking at the data on my behalf, weighing our program options, and making recommendations."
Marc Zuber
Group Procurement Manager,
Travel & Event Planning, Nestle
Speak with an Expert
Whether your goal is to understand your air travel footprint, build the optimal ground supplier portfolio, discover your hotel negotiation leverage, develop a communications plan, or to decrease carbon emissions – Advito is here to help you succeed.