Engaged employees are critical to your organization's success
Improve process adoption
If employees don't know what is expected of them, they can revert to old behaviors, leading to wasted time and money.
Increase employee satisfaction
The lack of thoughtful communication can leave employees feeling isolated and frustrated about a lack of support.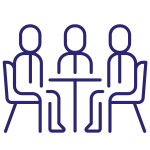 Avoid high employee turnover
Once an employee begins to feel disengaged, there is often little a company can do to retain that talent.
Employee engagement is more than just communication
It's about understanding your different audiences and what they want (and need) to know; what your available communication channels are; and how to create a multi-channel approach that is impactful, relevant, and easy to understand.
Advito's experts can assess your needs and design a strategy that will drive results. As the innovators of , we parlay the same behavioral economic theories and marketing tactics to any team in the organization – from Human Resources to Sustainability, and beyond.
Companies with high employee engagement are 21% more profitable
Employees often want to do the right thing. Sometimes knowing what the right thing is can be a challenge. A successful employee engagement campaign can be anything from onboarding a new HR tool, to increasing awareness of a new procurement process to launching a new Diversity & Inclusion initiative.
Now more than ever, with shifting work environments, having a clear and engaging employee communication strategy is critical to a successful business.
Calculate your potential savings now
Our approach drives results. Achieve incremental savings and prove the value of travel.
By putting an emphasis on clear communication, you will build trust with employees and ensure that they receive critical information at the right time and in the right channel.
Employee engagement can:
Galvanize employees around company goals
Minimize confusion through succinct, strategic communications
Decrease disruption by getting ahead of questions and concerns
Build brand affinity and trust with a consistent look and tone of voice
Increase employee satisfaction by cultivating two-way dialogue
Empower employees who feel involved in the process
"Now is the time to be proactive and prepare our corporate travelers for the seismic changes to travel that are taking form. With the resources provided by Traveler Engagement, we feel equipped and agile enough to shift and meet whatever challenges the coming months may bring."
Mauro Ruggiero
Global Travel Director, Finastra
Speak with an Expert
Whether your goal is to understand your air travel footprint, build the optimal ground supplier portfolio, discover your hotel negotiation leverage, develop a communications plan, or to decrease carbon emissions – Advito is here to help you succeed.